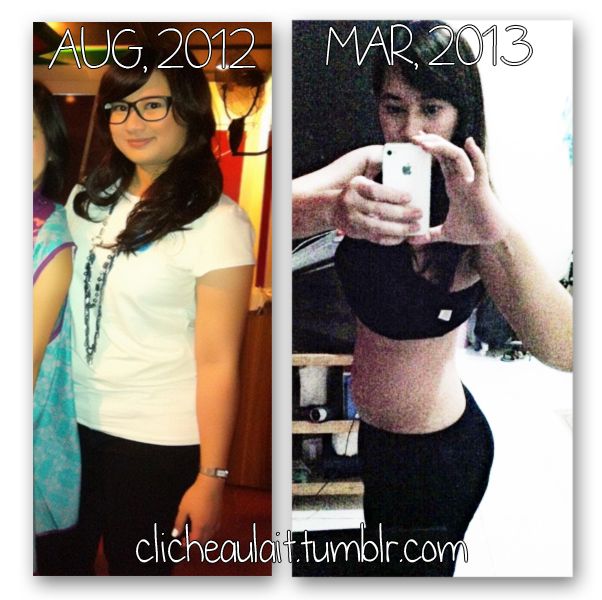 Another transformation pic from me :)
Before doing INSANITY by Beachbody and during INSANITY (lost 12 centimeters from my belly and 3,5 kilograms in a month). I started Insanity since early February. Clean eating and workout everyday. And I gotta tell you, clean eating is really important. I don't count calories, it's too burdensome for me. The important thing is that you need to be conscious of whatever you're eating. I took photos of every meals I had and keep them in my phone, it helps me to decide my next meals by looking at the food I've been eating.
If you're an iPhone user, you can also use #Eatery app. An old app, but it works for me. 
Oh, and water is a must. 
INSANITY is a really tough workout program for me, I guess it mainly because I haven't been doing a real workout for about 3-4 years. During Insanity, I was tired as fuck and slacking a lot. But I just didn't stop. So yeah, you can see that eventho I was slacking quite a lot during the workout, the result will always there because I don't give up and keep on going. Always think of the result and pushing your mind into it, you can. 
My followers maybe know that I used to be depressed. I used to hate the world and I really hated my self. I used to be awake the whole night, and refused to come out from my room during the day. But those days are gone, now. I decided to recover, I committed to live the healthy life I'm supposed to do, and I committed to be a better me, not bitter anymore. I keep on going,  and I feel much more happier. 
So yeah, this is not a result yet :) (Height 173 cm)
Starting weight: 194 lbs
"During" photo weight: 164 lbs
Current weight: 159.3 lbs
Goal weight: 128 lbs
Height: 5'2"
These photos were taken 30 lbs apart, at almost the halfway point in my weight loss journey. I was at my goal weight when I started college, but somehow I managed to gain 60 lbs in the four years before I graduated. I was complacent with my heavy weight and unhealthy lifestyle for a long time, but something just clicked inside my head this past summer and I decided I'd had enough.
I've made a lot of progress on this journey with my weight (I've lost 34.7 lbs thus far), but more importantly I've adopted a completely new lifestyle - one focused on health, fitness, and lifelong maintenance. I'm using the Weight Watchers plan currently (I lost the first 22 lbs on my own with portion control and exercise), because I've had success with it in the past and I feel most comfortable on it. But tracking my food doesn't even begin to cover the changes I've made. I have 31.3 lbs left to lose and some lofty fitness goals to meet!
Please, join me in my journey by following my blog: journeyofcurves :) I'm tracking my weight loss journey in detail and I'm trying to inspire and motivate as I do it! I'm a freelance writer, so along with my daily food trackers and motivational posts, I write some longer posts about various weight and health related topics (some recent posts: Shutting Down Body Shaming, The Horrors of Women's Sizing, Satisfaction While Socializing). Creating a support system (online or in real life) is crucial to success in this journey and maintenance of a healthy lifestyle, so I hope we can share our journeys and support one another! I hope you enjoy my blog and I look forward to getting to know you! <3
Thursday Mar 3 @ 03:30pm
I'm finally confident enough to wear a tight dress. I'm slowly going back to my old body and clothes. Workout and a healthy diet it's all it takes. It's a slow process but it can be done! www.mrsjonie.tumblr.com 
HW: 196 LB CW: 167 GW: 143-130 LB Height: 5'4
Saturday Jan 1 @ 03:30pm
Colleen lost 120 pounds and went from a size 26W to a 12 in doing so. How? In her own words, "Through old-fashioned diet and exercise — no fad diets, surgery or pills."
Saturday Jan 1 @ 03:30pm
I grew up with a different family until I was 12 years old. In 2011 my "brother" (Joey) from that family committed suicide under the influence of the drug Bath Salts. We were both molested at an early age by my biological father. Joey got addicted to drugs. I got addicted to food. Both were killing us. He didn't survive the abuse. I will.
Rest in peace, my sweet brother. I will become the confident, happy person you always wanted me to be.
Minus 123 pounds and counting.
Saturday Jan 1 @ 03:30pm
I'm 5'4, and currently around 125. This was achieved by an hour of cardio(Just Dance 3 and 4) 5-6x a week, and healthy eating. Recently I have gained muscle and lost fat by one ab video from POP pilates about 4-5x a week, along with 20-30 minutes of HIIT! My workouts itself are only 35-45 minutes, but are obviously effective.
As for eating, i've recently stopped counting calories and cut back on any majorly processed foods, while still enjoying ice cream and cookies along the way, too(;
If you have any other questions, my ask is always open(: More progress pictures, my intake, and my workouts are posted on my blog!
—-
Before and After Pictures of Weight Loss is now on twitter! Make sure you're following on tumblr, too!
You can also Shop here for great weight loss and health products at rock bottom prices & follow here for workout songs!
Sunday Dec 12 @ 12:08pm
Before 140 After 126 :) eating less and exercising 5x a week! My secret is that I don't deprive myself of the foods I love, but I eat them in moderation. I give into my strongest cravings, but only eat a small amount. Also, I supplement my diet with fruits, vegetables, and lean proteins. Losing weight isn't a diet, it's a lifestyle change. After the first few weeks, you will be loving the way you feel, and there will be no turning back! Stay healthy, you can do it!
Monday Dec 12 @ 03:30pm
Previous Page
Powered by Tumblr; Themed by Fusels